What is Law App?
Law App is an all-in-one solution for legal professionals looking to streamline their practice. It provides a suite of powerful tools tailored specifically towards managing day-to-day operations at your firm with ease and efficiency.
January 2023 - Author Kelly Mills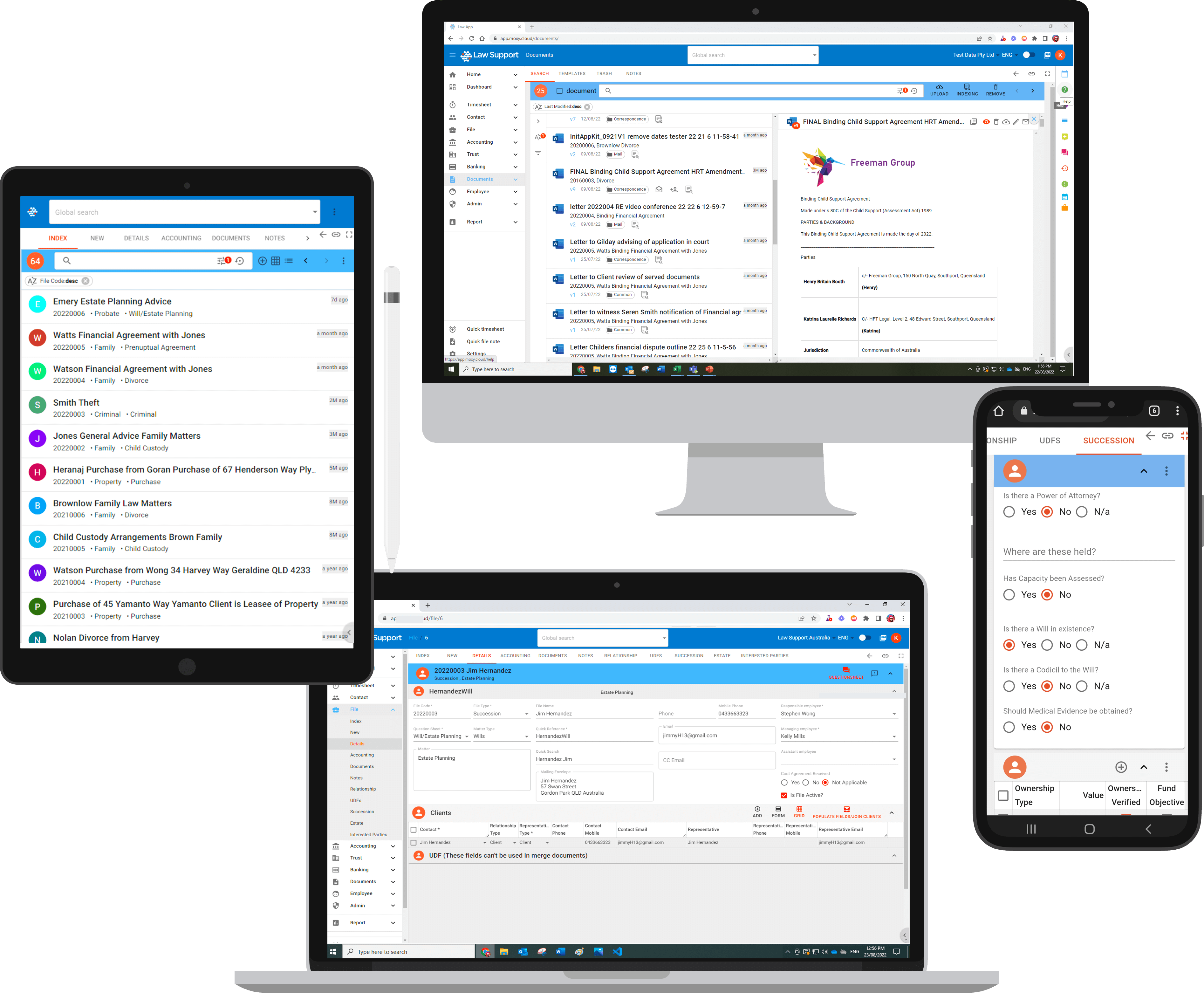 ---
What is Law APP?
Law App Software is the future of legal case management and law firm management. Our all in one document automation, trust and general accounting system with auto time tracking and streamlined billing and payment collection is perfect for firms who want to use clean modern software with the flexibility of logging into the web from anywhere. We're committed to providing the best possible service to our customers and look forward to helping you take your business to the next level.
Next Generation Legal Software is Web Based - Just log in
Law APP, a web-based legal application that has recently seen an unprecedented growth in popularity due to the support of tech giants for cloud integrations. No extensive IT setup is necessary - all you need is a laptop and Chrome browser! Law App's compatibility with both Apple or Windows platforms makes it entirely portable, as well as compatible with cutting edge touch devices. This allows users to experience greater efficiency without any technical hassle.
What chat GPT says about the difference between Hybrid software and Web Based Software
Web-based software, as the name suggests, is a type of software that operates entirely within a web browser, requiring no installation or downloads. In contrast, hybrid software typically has some parts of its functionality performed on a web server while other features run natively on a device using an installed application. Overall, web-based software is considered to be easier than hybrid software because it is simpler to use, update and maintain. With web-based software, users can access it from any device with a web browser, without having to worry about installing or updating software on each device. Web-based software also typically requires less memory and processing power compared to hybrid software, which can make it more accessible to a wider range of users. Additionally, web-based software is generally more cost-effective to develop and deploy, as it does not require creating and maintaining separate applications for different platforms.
#Pro Tip
User Interface is a term you need to know, and here's why.
User Interface is the essential factor defining user experience and with giants like Apple, Google and Facebook, with Google and Facebook tools joined to create innovative tools for web-development of Software in 2014, this concept has gained massive popularity among digital innovators, stretching to Law APP a premium legal software provider. Organizations such as AirBnB, Netflix, Spotify & even NASA have adopted these UI design environments to create an ultimate 'premium' experience for their customers.
With modern web Legal Software, your team can quickly become familiar with the screen layouts of new applications—reducing training time and allowing smooth transitions. What's more is Google has made these interfaces responsive to both mouse clicks AND touch screens, so you don't have to worry about grasping for those reading glasses anymore!
---
Kelly Mills is a Financial Writer and Legal Software Entrepreneur